The Driver Recruitment Specialists
Best Jobs for Drivers • Best Drivers for Jobs
Find your next driving job
Find your next driving job today...
The Extra Mile delivered!
Want the latest Hot Jobs, news & updates straight to your inbox each month?
Thank you for subscribing!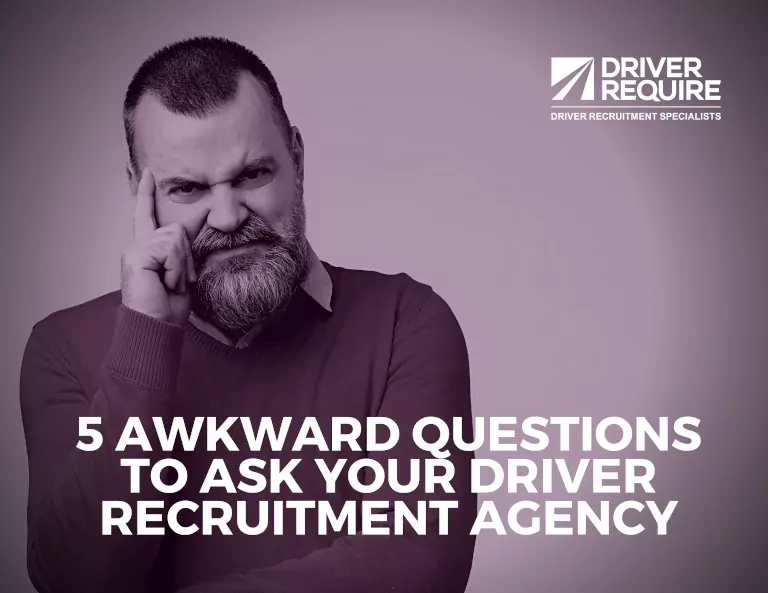 5 Awkward Questions to ask your Driver Recruitment Agency
5 Awkward Questions to ask your Driver Recruitment Agency
We're all aware of the challenges facing hauliers these days.
Increased demand from your customers… and not enough drivers. Or to be precise, not enough good quality drivers.
So, you turn to your usual driver agency and they promise they can deliver. But guess what, they don't… or worse still, they give you drivers who are just not up to the job. And you feel let down.
Your reputation and credibility is on the line. And where's the value for money?
We're not surprised, we hear it all the time. But not all agencies are created equal.
We've put together 5 Awkward Questions you should be asking of your recruitment agency.
These questions will help you to know if the one you're using is right for your business and if they're up to the job. It also explains how to get the best out of your recruitment partner with a comprehensive and unrivalled checklist so you can properly audit your agency.
So that when it comes to delivering to your customers, the more proactive you are, the less reactive you'll have to be.
Download our free guide "5 Awkward Questions to ask your Driver Recruitment Agency" today, so that you know whether or not your business is in the right hands.
Blog Posts
News from the road
Keep up to date with industry news and updates from Driver Require HQ
Our Clients
Who we work with
Over the last 20 years, we've developed a loyal base of over 150 clients. We operate with a local focus and national reach — partnering with family-run businesses close to our bases through to national suppliers.
We are a very exacting client and Driver Require has risen to the challenge, delivering thousands of shifts with no significant supply failure.

Driver Require's personal and dedicated approach has led the way to them remaining our primary supplier. Their supply of high quality van and class 2 drivers has helped us fill over 300 shifts a year with efficiency and reliability.

"I was looking for a company that could take care of our driver requirements and alleviate the strains that this puts on the business throughout the peak season. Driver Require is able to meet our requirements both at short notice and when planned. They are the first company I have used that actually took time to understand our requirements rather than just putting drivers on seats. This has resulted in a much better working dynamic and I would struggle to go elsewhere."

We have been using Driver require for nearly 3 years now and we find them to be one of the best Driving recruitment agencies around. Gemma and Vicky are very professional at all times. They supply us with a large amount of drivers on a daily permanent basis. Excellent work guys . We look forward to continuing to work with you in the future.

We were first introduced to Driver Require in September 2016. The made all the usual promises you hear from agencies and asked us to give them a list of vacancies we had and said they would cover them. They came back the same afternoon with full details to cover all the work and have been doing so ever since. We regularly use them for between 35-50 jobs a week. They provide reliable, professional drivers both for ad-hoc work and longer term vacancies. They are always our first call with any holidays, sickness and last minute cover and they always go the extra mile to deliver, keeping us fully informed along the way. They really do have the driver you require.
Contact
Find Your Branch
Free Text DRIVER to 80800