The Driver Recruitment Specialists
Best Jobs for Drivers • Best Drivers for Jobs
Find your next driving job
Find your next driving job today...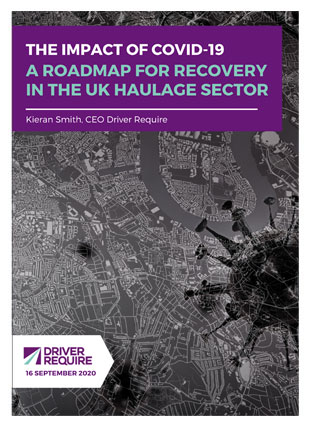 THE IMPACT OF COVID-19: A ROADMAP FOR RECOVERY IN THE UK HAULAGE SECTOR
Download our FREE report today and find out what the post-COVID-19 world might look like and understand the trends that will influence the UK Haulage Sector in the long term.
OUR COVID-19 REPORT IS AVAILABLE TO DOWNLOAD HERE
Blog Posts
News from the road
Keep up to date with industry news and updates from Driver Require HQ
Our Clients
Who we work with
Over the last 20 years, we've developed a loyal base of over 150 clients. We operate with a local focus and national reach — partnering with family-run businesses close to our bases through to national suppliers.
We are a very exacting client and Driver Require has risen to the challenge, delivering thousands of shifts with no significant supply failure.

Driver Require has successfully partnered with us for over 10 years. Their highly responsive, professional approach has never failed to provide us with good quality drivers to fulfil our short term needs.

Driver Require's personal and dedicated approach has led the way to them remaining our primary supplier. Their supply of high quality van and class 2 drivers has helped us fill over 300 shifts a year with efficiency and reliability.

As our primary supplier of agency LGV1 and LGV2 drivers, Driver Require is successfully providing us with high quality drivers and has done so for over 10 years.
Contact
Find Your Branch
Free Text DRIVER to 80800