Insights
Featuring the latest campaigns and updates from Driver Require
Insights
Featuring the latest campaigns and updates from Driver Require
The Answer to the UK's HGV Driver Shortage
This extension to the Driver Require Think Tank's first report on the critical HGV driver shortage, focuses on the longer-term issues of the aging HGV driver workforce and the severe depletion of the younger HGV driver pool, which presents a serious and immediate threat to the UK Haulage Sector.
Sign up today to download the report

HGV DRIVER SUPPLY & DEMAND DYNAMICS IN 2021
Get your copy of our latest report in our series "The UK's HGV Driver Supply Shortage". Kieran Smith, our CEO warns, "Brace for impact" on the chronic driver shortage the UK is currently facing.
Sign up today to download the report
HGV DRIVER SHORTAGE CRISIS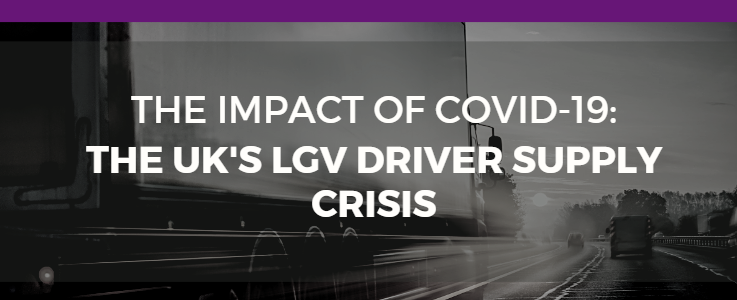 The HGV Driver Shortage will remain unresolved and may, in fact, worsen, despite reductions in demand due to COVID-19.
In our latest Report titled "The Impact of COVID-19 - A Roadmap for Recovery in the UK Haulage Sector", released in early July, our CEO, Kieran Smith, made the bold statement that there will no longer be an HGV driver shortage in the UK; at least not until we are fully out of the post-COVID-19 recession. We now believe that the HGV driver shortage will remain unresolved and could potentially worsen, at least in the short term.
Read more about our LVG Driver Shortage Crisis here

THE COVID-19 RECESSION AND ITS POTENTIAL IMPACT ON THE UK HAULAGE SECTOR
From Driver Require's point of view, as a temporary driver supplier, we are developing our thinking about how the haulage sector will cope with the different potential scenarios and how these could dramatically impact employment numbers in the logistics market.
Download our report below…
Our Updated COVID-19 report is available to download here
Contact
Find Your Branch
Free Text DRIVER to 80800