Driver Require features in the Parliamentary Review
Our predictions bear out as the haulage sector experiences a dramatic spike in volumes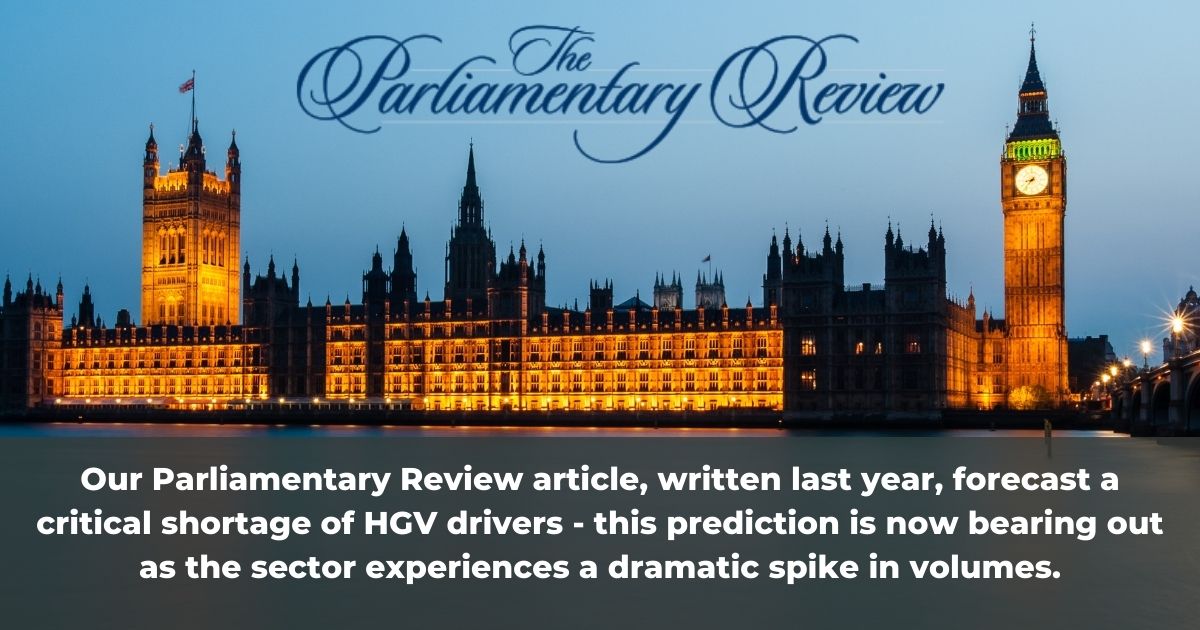 Read our article in the Parliamentary Review
Driver Require's article for the Parliamentary Review, written last November, forecast that the UK will face a critical shortage of HGV drivers - this prediction is now taking effect as the sector experiences a dramatic spike in volumes.
Driver Require is delighted to have been, once again, featured in The Parliamentary Review magazine which showcases best practice across a variety UK industries - this annual publication, originally established by former minister The Rt Hon David Curry in 2010, is a key fixture in the political calendar.
In his introduction by ­the Rt Hon Kwasi Kwarteng MP, Secretary of State for Business, Energy and Industrial Strategy says: "This year's Parliamentary Review reflects on a tumultuous and extraordinary year, globally and nationally… It will be remembered as the year in which we concluded Brexit negotiations and finally left the European Union. Above all, it will be remembered as the year of Covid-19…
"In our fight against the pandemic, I am delighted that our vaccination programme is beginning to turn the tide – and I pay tribute to the British businesses, scientists and all those who have helped us to achieve this. But the virus has dealt enormous damage, and we now have a duty to rebuild our economy."
The main aim of the Parliamentary Review is to showcase best practice as a learning tool to the public and private sector. It looks back on the year in industry and Westminster and is sent to leading policymakers. It is essential that politicians have a firm understanding of the challenges with which British organisations must contend and The Review provides the platform for their insights to be aired. Driver Require's first report was published in 2020 in the Transport section of The Review. Exceptionally, Driver Require was invited to make a further submission in the 2021 issue and you can view our feature here or the full issue of the Business & Services Publication here. Driver Require also featured in the Parliamentary Reviews news "Turbulent times for UK haulage sector but it will adapt to post-Covid-19 world"
One of the key issues facing our sector is the HGV driver shortage. Driver Require has been tracking this issue for a number of years prior to the Covid-19 outbreak, and then more closely as we progressed through the pandemic. When we wrote our article for the Parliamentary Review last November, we forecast that the UK will be facing a critical shortage of HGV drivers - this prediction is now bearing out.
The toxic combination of increased demand, largely due to the easing of restrictions and positive economic forecasts, and the fall-out of IR35 legislation, Brexit, new immigration rules means that we are indeed facing a crisis, not seen for 20 years. Our new Report "A Perfect Storm of Elevated Demand and Reduced Supply in the UK Haulage Sector: Investigating HGV Driver Demand & Supply" has been validated by a panel of industry experts (the Think Tank) and sets out possible actions to mitigate against this crisis. We are now working with the sector to put these recommendations into action."
With representatives from the REC, Logistics UK, Think Logistics, Road to Logistics, haulage and distribution operators including grocery suppliers, a statistics expert, a national fleet hire supplier and an established HGV driver training school, the Think Tank has concluded that haulage activity has recently returned to pre-pandemic levels, and there is demand for approximately 300,000 HGV drivers, and that this is likely to increase throughout the remainder of 2021. It also anticipates that further pressure will come from HGV drivers taking vacation over the school summer holiday period. The Think Tank noted that, prior to the COVID-19 Pandemic, the haulage sector was already suffering from a chronic low-level shortage of HGV drivers that became severe in times of rapid uplift in requirements or during seasonal peak demand. It also observed that the sector had relied heavily on EU HGV drivers to avoid a supply crisis in the event of a rapid increase in demand.
The Report's author, Driver Require's CEO, Kieran Smith says "As a temporary recruiter, we are at the coalface of the impending, predicted crisis but it will be our clients and ultimately businesses and consumers who rely on the movement of goods across the UK who will pay the greatest price. We believe that, as a sector, we have a responsibility to take action and alert the wider community to the possibility of a driver shortage crisis. We need to raise the profile of this issue, dispel common perceptions and provide industry key influencers and decision-makers the opportunity to act to secure the UK's economic recovery."
"Kieran Smith, CEO said, "It's a privilege to be involved with the Parliamentary Review. It is a tremendous opportunity to share best practice, knowledge and insight with other businesses as well as with the government – this is essential to help tackle the issues facing our sector and ultimately, the stabilisation of our nation's economy."
To read the full version of the Parliamentary Review 2021 – Business & Services Issue: click here
Read our article in the Parliamentary Review
Read our latest Report on the HGV driver shortage crisis here
Tuesday 1st June 2021
Contact
Find Your Branch
Free Text DRIVER to 80800