Driver Require 'sets new benchmark' for industry compliance
Read our latest mention in Transport Operator article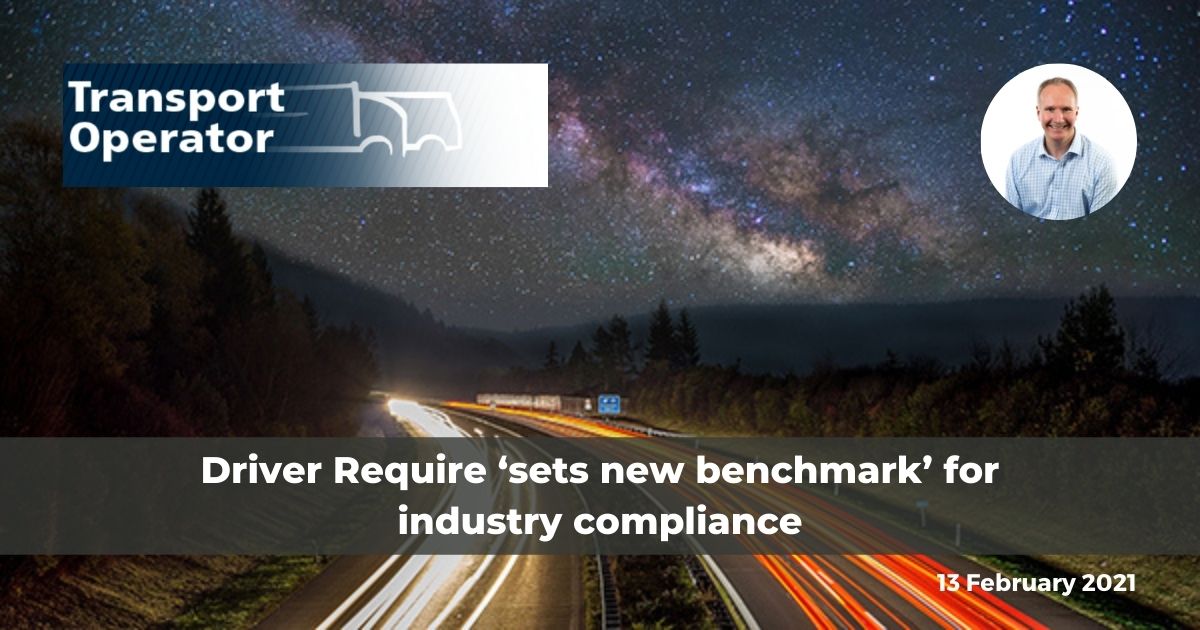 Driver recruitment agency Driver Require says it has demonstrated its commitment to gold-standard industry compliance by becoming REC Audited and a signed FCSA Supply Chain Partner, as well as achieving the Logistics UK Driver Agency Excellence award.
Prior to the Covid-19 pandemic, the company set out a strategy to achieve accreditation of best practice and compliance across all aspects of its business. This month it received REC Audited status, the third of three formal recognitions it had been working towards to demonstrate its compliance across recruitment, payroll and haulage sector regulations.
Driver Require CEO Kieran Smith commented: "We've always prided ourselves on operating transparently and above the line, but we wanted the qualifications and third-party accreditations to offer proof that we are true to our values and deliver real compliance."
With impending IR35 reforms and market turbulence as a result of both Brexit and the Covid-19 pandemic, the focus on compliance within the haulage sector is increasing, says the company, anticipating that the next few months will see a levelling of the playing field, with greater pressures on margins across the sector.
Smith predicts that this commercial stress on hauliers and suppliers could mean non-compliance proliferates, as companies resort to illicit practices to maintain margins.
"Compliant, ethical hauliers are most exposed," he said.
"We've already started to see a growing demand not only for suppliers offering the best value for money but for suppliers with a reputation for honest, above-board practices, along with quality assurance through both accredited compliance and operational excellence."
REC Audited status is awarded by the Recruitment and Employment Confederation (REC), and covers compliance as well as the REC Code of Professional Practice. Driver Require says it is fully conversant and compliant with the recruitment agency Conduct Regulations, Agency Worker Regulations (AWR), and the Matthew Taylor Review of Modern Working Practices.
By signing up to the FCSA Supply Chain Partner charter on payroll compliance, Driver Require undertakes that it and all its Umbrella partners pay all taxes and statutory payments on behalf of their agency workers, adding that it strives to prevent tax avoidance, evasion and fraud. The partnership also provides assurance that all of Driver Require's Umbrella partners are FCSA accredited.
Finally, the Logistics UK Driver Agency award of Excellence offers assurance that Driver Require is expert in and fully compliant with the haulage sector regulations, the firm says, including in terms of tachograph and working time regulations.
Smith added: "Unfortunately, we're working in a market where it's all too easy to say the right things but not follow through. We want to lead by example and provide reassurance that when our haulage partners choose Driver Require, they know they're getting a partner invested in ethical, gold-standard compliance.
My hope is that we can set a precedent and expectation for ethical and transparent operations across the sector, especially as we brace ourselves for the imminent changes we'll face in the next few months."
Read the full article in Transport Operator
Monday 15th February 2021
Contact
Find Your Branch
Free Text DRIVER to 80800