CEO Kieran Smith talks to BBC Radio 4 Today
Kieran Smith discusses the HGV driver shortage and answers questions on how to resolve the ongoing crisis
This week, Driver Require CEO Kieran Smith spoke with BBC Radio 4 Today about the ongoing HGV driver shortage crisis, the wider issues and how the Government and haulage sector can address the driver shortage.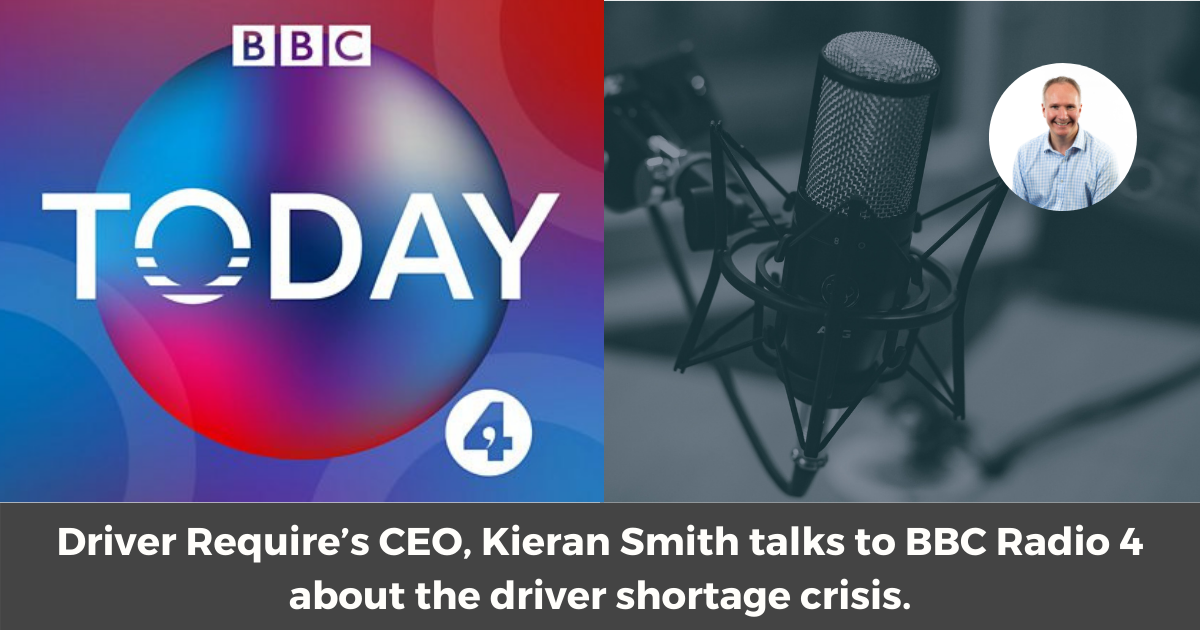 Excerpts from the radio broadcast BBC Radio 4 Today discussing the HGV driver shortage.
Looking at the statistics, what has caused loss of drivers in the industry?
Statistics from the ONS specifically in relation to the pandemic indicate that the older division of the driver population left the industry in the first quarter of the year, around 40-50,000 over the age of 45. There was also a deficit due to the constraint testing capability during the pandemic.
Will these measures such as new temporary visa extensions and increased testing make a difference?
It absolutely will make a difference. The point here though, is about when will that be visible, when we actually start to feel the impacts of those initiatives? The government has fast-tracked in relative terms to get this to happen. For example, the need for car and caravan drivers to take the test has been eliminated, freeing up capacity.
In a year do you think this driver shortage crisis will be fixed, or it that too optimistic/pessimistic?
I would say a year is around the mark, looking at the figures – we believe it is around a 60-70,000 shortage. With current testing rates paired with the fact wages are increasing will mean we retain more drivers. If testing rates are consistent this will bring about 3-4,000 new drivers, provided they stay with us that will put a significant dent in that deficit.
To listen to the full interview, please contact us at media@driverrequire.co.uk.
Friday 22nd October 2021
Contact
Find Your Branch
Free Text DRIVER to 80800