Driver Require's CEO, Kieran Smith talks to the BBC World Business Report
Temporary extension to driver's hours – just a sticking plaster?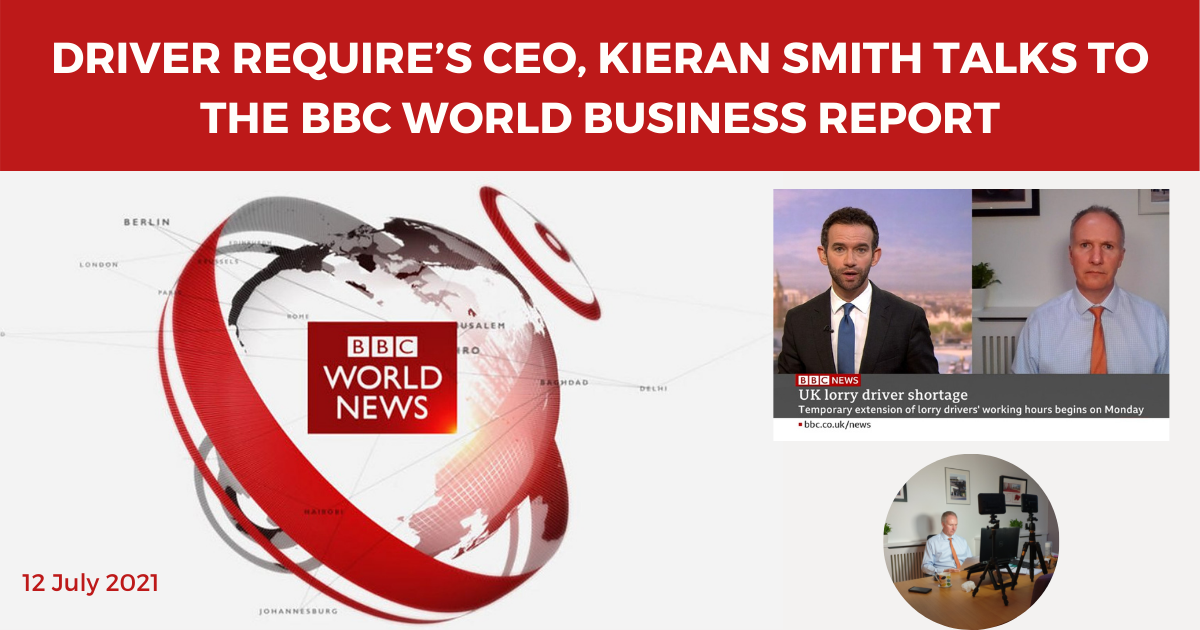 Following the decision by the government to temporarily extend lorry drivers' working hours from Monday 12 July until 8 August, many industry bodies are saying this is just a "sticking plaster". Driver Require's CEO was today (12 July) interviewed on BBC World Business Report and gives his view on how the negatives of this measure outweigh any positives and that in fact "drivers are already working to their limits with existing rules" and that this measure could make it more dangerous for all road users.
When asked if the temporary extension to driver's hours made sense as a temporary or partial solution to the HGV driver shortage, Kieran said that the negatives outweigh any positives and would amount to just "an extension of a couple of trips per week – extending it twice a week from 10 hours to 11 hours, meaning that you can get back to base more easily". He goes on to say that "the changes to driver's breaks means that instead of a full 2 day break, you can split it into two 24-hour rests, meaning drivers can now go a full 2 weeks without taking a full rest."
"Drivers are already working to their limits with the existing rules" and longer hours could add to the pressure on drivers who have already worked flat out since the start of the pandemic. The concern of many industry bodies and companies is that the safety of lorry drivers and other road users will be compromised.
Watch the interview on BBC iPlayer here – the clip starts at 14 minutes.
Monday 12th July 2021
Contact
Find Your Branch
Free Text DRIVER to 80800