How to become a HGV driver
Here's our guide to what you need to do, what you can expect from the job and a bit of insight into what it's really like being a HGV driver.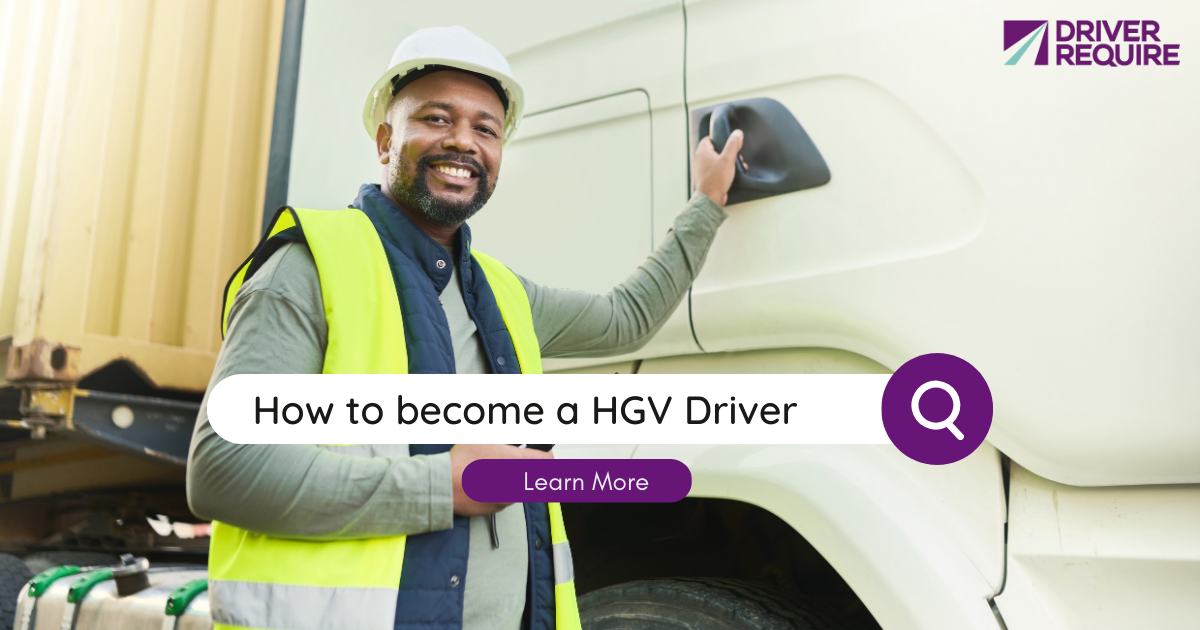 Why should you become a HGV Driver
In 2021 there was an HGV driver shortage, meaning HGV drivers were in great demand to ensure businesses made their deliveries. HGV drivers were classified as key workers during the pandemic and are critical to the movement of goods across the country.
– Read about the HGV driver shortage here 


HGV driving offers an exciting and varied lifestyle
HGV driving is not usually a 9-5 job, and you could find yourself driving anything from an 18t rigid lorry to a 44t articulated lorry with a trailer. HGV drivers have a variety of responsibilities; planning routes, unloading and loading their vehicles, taking inventory. There is a lot more to HGV driving than just sitting behind a wheel. The type of goods you deliver can be anything from groceries to building materials, medical supplies and household items. The list is almost endless.
– Read about some of our clients  here


You can earn a great salary
So, how much does an HGV driver earn? The average salary of an HGV driver varies depending on experience, class of vehicle driven, location, type of goods you're transporting and the company you work for - but as a guide…
HGV Class 1 drivers can earn in excess of £40,000 per year and for more specialist HGV Class 1 drivers with additional certificates, in excess of £50,000 per year.
HGV Class 2 drivers can earn in excess of £30,000 per year
If you are a newly passed driver you may earn a little less to start with but it doesn't take long to build up your salary
The pay Driver Require offers is very competitive and we are continually negotiating with our clients to offer our drivers the best salaries. Our HGV drivers on average earn anywhere between £600 - £1,000 in a full working week

Contrary to popular belief, lorry driving is a very sociable, self-guided and diverse profession 
As a driver, you will travel all over the UK, meeting and working with people from all walks of life and building your social network.

What key characteristics & skills do you need to be an HGV driver?
As an HGV driver, you need to:
be able to focus for long periods of time
be a patient driver both at daytime or night
complete paperwork when completing deliveries
have good people and communication skills
have an excellent understanding of road safety & knowledge of HGV's including how to load and unload your vehicle safely
work independently and be able to solve problems

How much experience do you need to become a HGV driver?
It entirely depends on the clients you will drive for. Some companies we work with will take on newly passed HGV drivers while others require 1 or more years' experience as an HGV driver. Once you have your HGV licence, get in touch with us and we'll be able to find the job that's right for you.
What are the different types of HGV driving licences?
Category C1 licence
This is one up from a UK car licence, allowing you to drive commercial vehicles up to 7.5 tonnes - for example, a van, a light box truck or a tractor-trailer. (If you passed your driving test before 1997, your licence will already include C1.)
Category C1 + E licence
If you have your Category C1 licence, you can then apply for C1 + E. This entitles you to drive a 7.5 tonne vehicle with a large, heavy utility trailer (find out more about the weights this licence covers here).
Category C licence
This is the most common licence for HGV drivers - it allows you to drive rigid commercial vehicles up to 44 tonnes, plus a small trailer up to 750kg i.e. most, rigid lorries, tankers, flat beds and tippers.
Category C+ E licence
Also known as a Class 1 licence, this allows you to drive the largest and heaviest vehicles on the road, including oversized articulated lorries (or artics) and heavy construction equipment. Basically, it means category C vehicles with a trailer over 750kg - the 'E' in the license stands for 'entitlement'.
How do I get started?
Before you can start training to be an HGV driver you must be over 18 and must already hold a full car driving licence. (If you're eligible, you can order forms D2 and D4 from the DVLA) Then…
Apply for your provisional HGV licence from the DVLA
The D4 form from the DVLA is for a medical assessment, which a registered medical practitioner needs to fill out with you. That form then goes to the DVLA, which decides if you meet the necessary health standards.
Find yourself a driving school – there are driving schools all over the country offering a variety of packages to suit new drivers
Fund your training – on average, from a standard category B licence (car), you can expect to pay anywhere up to £2000 to obtain your category C licence
Complete your HGV medical, find out how on the Gov.uk
Book and complete your hazard perception and theory test 
Book your practical training – You should allow a full week to complete your HGV training (including your CPC modules)
Book and pass your test
Start your new career as a HGV driver
At Driver Require, we understand the importance of the role HGV drivers play and we are committed to fair pay, balanced working hours, benefits and opportunities for promotion and personal development.
We offer driving jobs across the Northern Home Counties, the South Coast and the East Midlands, so there's no need to travel far to start your dream job. With new driving jobs being regularly added to our Jobs Board, you can find your new HGV driving job today!
To find out more about becoming an HGV driver with Driver Require, call us today…
Wednesday 8th March 2023
Contact
Find Your Branch
Free Text DRIVER to 80800