New Dawn or Stormy Seas for New IR35 Off-Payroll Working Rules?
Read our latest mention in Recruiter Magazine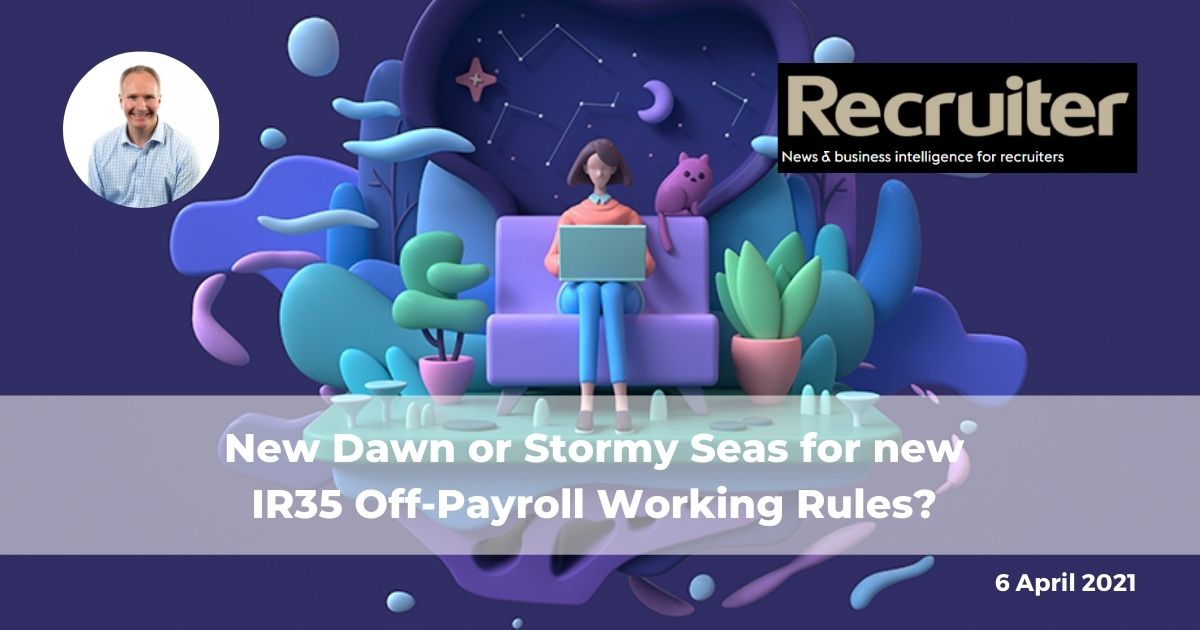 The controversial IR35 self-employed taxation rules being rolled out today are undermining the sector at the "worst possible time".
This is the view of IPSE (the Association of Independent Professionals and the Self-Employed), where its research has shown that half (50%) of freelancers are planning to stop contracting in the UK, unless they can get contracts unaffected by them. Instead, they are planning to seek contracts abroad (24%), stop working altogether (12%), seek an employed role (17%) or retire within the next year (11%).
As reported over recent months on recruiter.co.uk, off-payroll working rules that require private sector employers to determine the working status of their contractors come into effect today.
The changes will see the transfer of responsibility from contractors to the end-client companies to assess whether a worker's employment status falls within IR35 – legislation that ensures that payments to contractors are subject to the same level of PAYE and National Insurance Contributions as employees. The reform will bring private sector IR35 in line with the public sector rules introduced in 2017.
A survey of recruiters, carried out jointly by accountancy and business advisory firm BDO, banking giant NatWest and law firm Brabners, has found that nearly a quarter of respondents (23%) flagged the introduction of the new rules as their main current concern.
James Fieldhouse, M&A managing director at BDO, said: "While the continuing impact of the pandemic is the biggest issue keeping recruiters awake at night, according to 50% of respondents, the immediate issue of putting the off-payroll working rules into practice, particularly in regard to how it affects international contractors and clients, is presenting challenges for the sector."
As far as the transport & logistics sector is concerned, CEO of driver recruitment specialist Driver Require Kieran Smith told Recruiter: "It is now becoming clear that, as a consequence of the increased agency charge rates, many of the larger agency users who had previously 'outsourced their standard operations' to agencies, have taken back in-house many of these workers and expect their agency partners to work with a smaller volume of higher variability work."
Smith's overall observation is that it has been tough over the past couple of weeks for the sector, "both from the perspective of covering customer requirements and also in terms of managing the mechanics of the transition process". However, he believes Driver Require is "coping well" despite the challenges.
He says one of the difficulties has been in getting limited company drivers to decide on which PAYE payroll option to move to – either Driver Require's own in-house PAYE payroll or an umbrella PAYE.
"This has been largely due to a general inertia and reluctance to deal with the unknown. This is despite a concerted comprehensive education campaign on our part that has been in place for several months. We are nearly completed with this exercise but can imagine that less-prepared agencies may still be struggling with this task."
He adds: "Limited company workers have been reluctant to move between agencies and clients prior to the 6 April, as they wished to maintain their limited company assignments on known terms until the last possible moment. There has therefore been a hiatus over the past couple of weeks where we have suffered from a lack of flexibility from our agency workers, making it difficult to cope with variability in demand in certain regions and for certain clients."
Read the full article in Recruiter Magazine
Thursday 8th April 2021
Contact
Find Your Branch
Free Text DRIVER to 80800