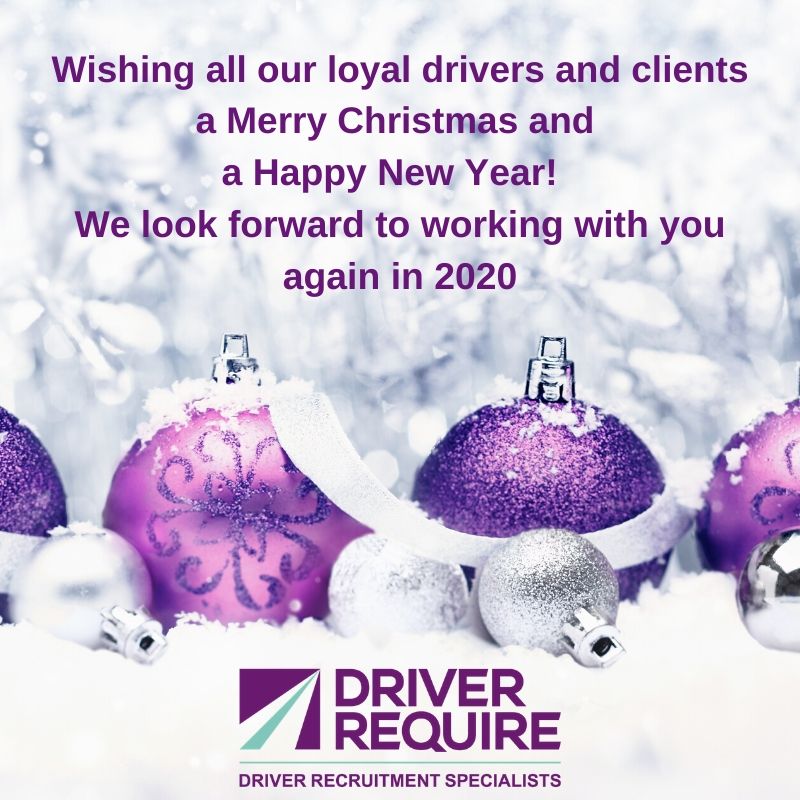 On behalf of the Driver Require team, I'd just like to take a moment to thank you for all your hard work, loyalty and support throughout 2019 and to recognise the incredible job you do for us and for our clients, much of which goes un acknowledged and unsaid.
We have received so many fantastic reports from our clients about our drivers who go above and Beyond the Extra Mile, in terms of their reliability, flexibility, can-do attitudes and determination not to let the side down. We salute you and the tremendous job you do, often in difficult circumstances.
We are expecting 2020 to be a very interesting year, particularly with Brexit drawing closer and just as importantly, for both you and us, the possible introduction of IR35 in April. These changes will prevent larger haulage companies from taking on drivers who work as Ltd Companies. Instead, you'll need to be employed as a PAYE worker - either as part of a haulage company's permanent driver pool or on your agency's payroll. Read about how this IR35 legislation might affect you here:
We're in your corner and are working really hard to negotiate new and improved PAYE rates with our clients so that we can offer our PAYE drivers the same level of net (after tax) pay they would get operating as Ltd Company contractors.
We are also working hard to achieve a "level playing field" where agency workers are treated and compensated fairly and in line with their permanent counterparts. Because of the repeal of AWR Swedish Derogation contracts, ALL agency workers will be entitled to parity pay after 12 weeks. Therefore, we're working with our clients to determine the AWR Parity Pay (pay, other remuneration, rights and benefits for that role) and will mutually agree a set of minimum agency pay rates.
Want to know more? Our doors are always open – pop in, call, text or email us. If you have any questions or would like to discuss the changes in more detail, we're more than happy to talk you through the options and, where applicable, guide you through the steps to transfer over to PAYE.
On a final note, thank you once again for all your hard work, support and loyalty and we wish you and your families a very happy festive season, and a peaceful and prosperous New Year.
Warm regards,
Kieran Smith, CEO Driver Require
Friday 20th December 2019
Contact
Find Your Branch
Free Text DRIVER to 80800