BE PREPARED FOR IR35
WITH OUR 7 STEP ACTION PLAN
Ready for IR35?
Our Action Plan is designed to help you understand the steps required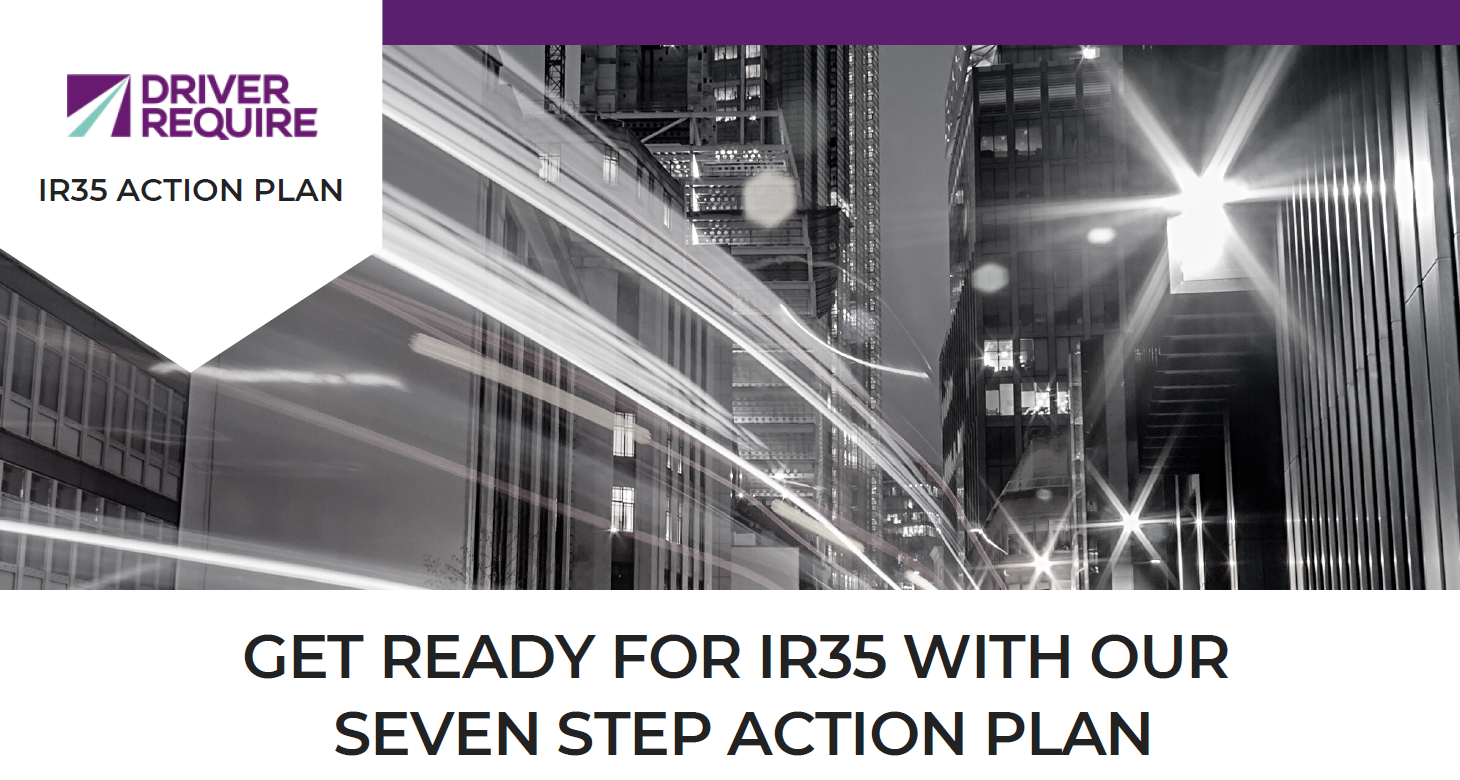 Despite the Government's announcement that it intends to review the proposed application of IR35 to the Private Sector, we are urging operators not to see this as a postponement or cancellation of the IR35 plans but for what it is: a review with no guaranteed outcome.
Financial Secretary to the Treasury Jesse Norman said: "We recognise that concerns have been raised about the forthcoming reforms to the off-payroll working rules. The purpose of this consultation is to make sure that the implementation of these changes in April is as smooth as possible."
To encourage haulage operators to continue preparing for the IR35 legislation to rollout in the Private Sector in April 2020, we have published an IR35 Action Plan aimed at helping operators understand the steps they need to take to be ready for the changes.
Read our IR35 Action Plan here
The Action Plan talks operators through seven steps of action: including formally determining their company size and if they can be categorised as a "small company" and are therefore exempt from the IR35 legislation or if they need to work with their HR departments to prepare Status Determination Statements for each category of agency workers that they engage. It also explains what's involved in ensuring operators are prepared for the repeal of the AWR Swedish Derogation, and guidance around the negotiation of new charge rates between hauliers and their agencies.
Our CEO, Kieran Smith, explains the reasons behind publishing the IR35 Action Plan: "For an operator to assume the roll-out won't happen will mean that they will be totally unprepared if it does go through, putting them at a great disadvantage to their competitors who do prepare for it."
"While we're recommending that our customers prepare draft Status Determination Statements (SDS), we're suggesting they delay publication of these pending the outcome of the review. This way our customers will be ready to act should the implementation of IR35 go ahead, while maintaining flexibility should it be delayed or changed."
Our Action Plan follows our recently published White Paper, "IR35 & its Potential Impact on the Temporary LGV Driving Sector".
The report explains how the introduction of IR35 to the Private Sector is going to force agency drivers currently operating as Ltd Company Contractors to move to PAYE. Maintaining these drivers' net pay — as well as maintaining agency margins, paying tax and NI contributions — will effectively raise agency labour costs by up to 25%, which will raise the cost of temporary drivers to the end client by around 20%. This is essentially a tax on agency users that goes entirely to the government; neither the drivers nor the agencies will benefit from the charge rate increases.
The report explores the impact of the change on agency volumes and charge rates across the agency contract spectrum, highlighting that the increased cost of agency workers will encourage haulage operators with large volume agency contracts to take "standard operations" back "in-house" — only relying on agency drivers to cover seasonal and variable demands.
The IR35 Action Plan is our call for both hauliers and their agencies to work together to establish new charge rates that take the impact of the IR35 legislation into account, so that we can stabilise the market and enable normal, competitive operations to be re-established.
The IR35 Action Plan is available to download here
The full IR35 WHITE PAPER is available to view here
BE PREPARED FOR IR35
WITH OUR 7 STEP ACTION PLAN
With the rollout of IR35 to the Private Sector looming, hauliers need to take immediate action to ensure they're properly prepared for the changes in legislation come April 2020 — this Action Plan is designed to help you understand the steps required. Our hope is that this process will create greater transparency across the sector, bringing hauliers and agencies towards closer partnerships.
READ THE FULL ACTION PLAN HERE
Here is a summary of the key actions, however we recommend you download the full action plan to ensure you are prepared:
1. Hauliers must determine if they are a "Small Company". If so, they will be exempt from the IR35 legislation, but they will still be impacted by the repeal of AWR Swedish Derogation and the need to determine Parity Pay Rates... read more...
2. If a haulier is a larger company, i.e. not a "Small Company", they will be subject to the IR35 legislation. In this case they must: a) Determine the employment status of each category of agency temporary worker they engage and b) Produce a Status Determination Statement "SDS" ...read more...
3. While the IR35 legislation remains under "review" we strongly recommend that hauliers continue as though the legislation will still be implemented in April 2020, BUT that they do not publicise or formally communicate their SDS decisions pending the outcome of the review. This way they will be ready to act should the implementation of IR35 go ahead, while maintaining flexibility should it be delayed or changed... read more...
4. Meanwhile, ALL hauliers, regardless of "Small Company" or not, should ensure they are prepared for the repeal of AWR Swedish Derogation, which will enforce Parity Pay Rates for all PAYE agency workers after 12 weeks on assignment... read more...
5. Now the agency can establish the cost of employment for its temporary workers. Small Companies can have up to three sets of pay rates, one for each of the agency worker categories, while larger companies can only have the two PAYE variants... read more...
6. The haulier and agency now need to negotiate charge rates. These will be a compromise between the agency's need to generate enough margin over the total cost of employment of their temporary workers the amount the haulier is willing to pay... read more...
7. If the result is increased charge rates, it is reasonable to expect the haulier to review and optimise its agency requirements, probably looking to reduce the size of its agency worker pool. This is likely to trigger the haulier to request the transfer of agency drivers to permanent roles; either via direct transfer for a fee or via a Temp2Perm arrangement. The agency should be prepared for this eventuality and have relevant terms agreed... read more...
DRIVERS: Working as a Ltd Company Contractor?
YOU NEED TO GET READY FOR IR35
Changes to the Government's IR35 legislation will come into force in April 2020, preventing larger haulage companies from taking on drivers who work as Ltd Companies. Instead, you'll need to be employed as a PAYE worker — either as part of a haulage company's permanent driver pool or on your agency's payroll. You'll still be able to work through your agency's Umbrella scheme as a PAYE worker.
WHAT IS DRIVER REQUIRE DOING TO PREPARE FOR IR35?
We have analysed the legislative changes from the perspective of haulage companies and produced a focused Whitepaper to explain the implications for the haulage sector.
We have prepared a clear and concise Action Plan for our clients
We have approached all of our clients to warn them of the impending changes and to offer support preparing for these
We have produced an explanatory leaflet for our drivers and we are actively working with them to help them understand the impact IR35 will have on them and what we are doing to get the best result for them
Driver Require is a member of the REC Driver Sector Executive Committee and, in this capacity, we are lobbying the government, HMRC and regulatory bodies to get clarity on the proposed review and implementation of IR35 and to make them aware of the ramifications for the haulage and temporary driver recruitment sectors.
Further to this we are running an active PR campaign through a programme of press articles, conference presentations and interactive sessions with our clients, all to raise awareness of the challenges we will face and actions we collectively need to take to achieve the best outcome.
IR35, Brexit & The LGV Driver Shortage
"The following article was published in the Parliamentary Review in 2019 and describes "The Perfect Storm" - the driver supply shortage, combined with Brexit and the impending IR35 changes, all of which represent a threat to the continued supply of temporary drivers and to the haulage sector."
The Impact of IR35 on Hauliers
Contact
Find Your Branch
Free Text DRIVER to 80800