20 Fitness Motivators
Ways to drive up your fitness whilst on the job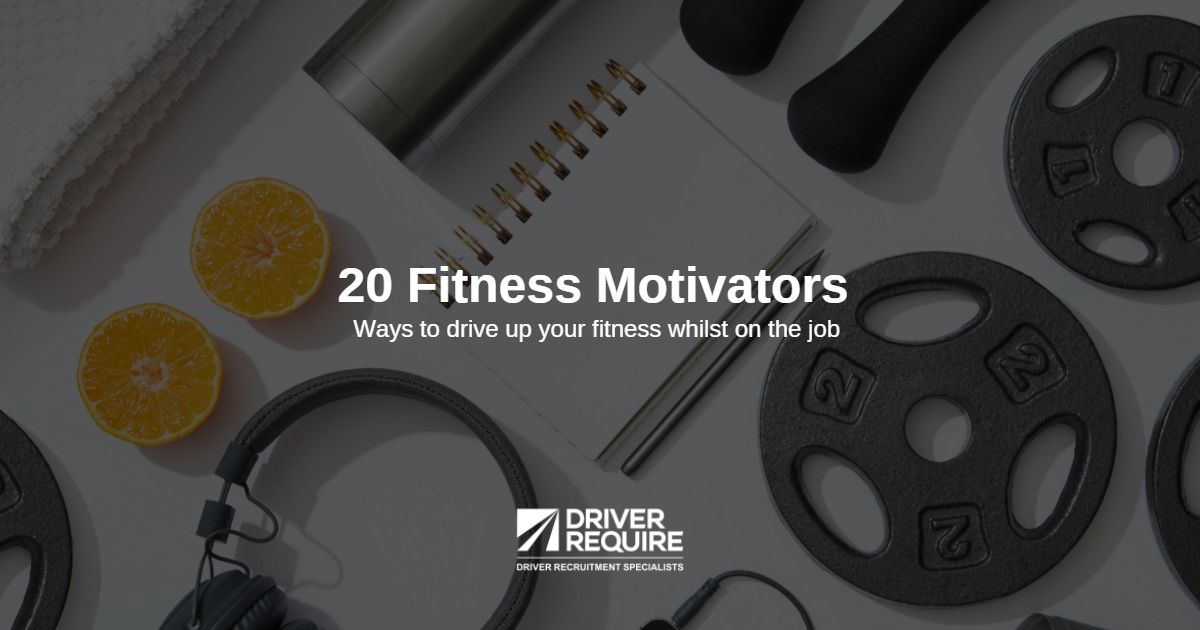 To celebrate 20 years of Driver Require, we are sharing twenty ways to keep fit and stay healthy whilst on the road. We all know that maintaining good health is important, here are some ideas that you can put into practice to improve overall health, fitness, and wellbeing.
Healthy meals
We know how hard it is to eat healthily while on the road. Check out these recipes and fuel your body with these quick and healthy on-the-go meals which can be adapted to suit your lifestyle.
3. Tomato & avocado sandwiches
4. Pesto pasta
5. Potato salad
Exercises to do whilst on your break
Easy ways to keep your body moving
6. Bicep stretches
A quick upper-body activity
How to:
Intertwine your fingers behind your back.
Keep your hands at the base of your spine and straighten arms.
Lift arms as high as possible, maintaining comfortability.
Hold for up to 1 minute, repeat 1-3 times.
7. Overhead triceps stretches
Can help to increase flexibility and reduce chances of injury
How to:
Lifting shoulders up toward ears, then follow by drawing them down and back.
Stretch your left arm to the ceiling, bending your elbow to bring the left palm toward the centre of your back, rest your middle finger along your spine.
Using your right hand, softly push your elbow toward the centre and down.
Hold the stretch for 30 seconds, repeat three times on each side.
8. Ankle rotations
An easy exercise to keep your lower body moving
How to:
Lift your right leg from the floor, slowly rotate your ankle clockwise,
Rotate for 5 seconds then change to counter clockwise rotation.
Repeat these rotations 10 times on both feet.
9. Core exercise
Helps to strength the sides of your core (obliques)
How to:
Sit straight in chair, with your legs together and knees bent at a 90-degree angle.
Feet should be flat on the floor with shoulders back but relaxed.
Lean back 45 degrees, hold chair seat on either side of thighs.
Engage abs whilst leaning back, slowly drawing your knees toward your chest.
To follow, unbend knees and extend legs out at a 45-degree angle, hold, and then bring legs back in bending at the knees.
Repeat 10-20 times.
10. Neck stretch & rotation
Stretching your neck is good for improving flexibility and mobility
How to:
Sit upright in your chair, with shoulders down, looking straight ahead.
Slowly turn your head towards your right shoulder, as far as is comfortable.
Hold this stretch for 5 seconds, then slowly return to the original position.
Repeat on the left side, repeating 3 rotations on each side.
11. Chest stretch
A useful stretch for maintaining good posture
How to:
Sit away from the back of your chair and upright.
Pull shoulders back and down, extending both arms out to your side.
Push your chest forward gently until you feel a slight stretch across your chest.
Hold for between 5 – 10 seconds and repeat 5 times.
12. Hip marching
Helps to improve flexibility whilst strengthening hips and thighs
How to:
Do not lean on the back of the chair, sit upright. Hold onto the sides of the chair.
Lift one leg with your knee bent maintaining comfortability.
Place foot down in a controlled manner.
Repeat with opposite leg, complete 5 lifts with each leg.
Fitness/Wellbeing apps
Apps to help you improve your fitness and wellbeing
13. MyFitnessPal
14. Couch to 5k
15. 7-minute workout
16. Daily Workouts Fitness Trainer
17. Sleep Cycle
Motivational music
Research shows that the right music can help you get more out of your workout – here are a few playlists to get you going…
18. Motivation Mix
Click here to listen.
19. Best Workout Music Playlist
Click here to listen.
20. Top Motivational Songs
Click here to listen.
Monday 1st November 2021
Contact
Find Your Branch
Free Text DRIVER to 80800